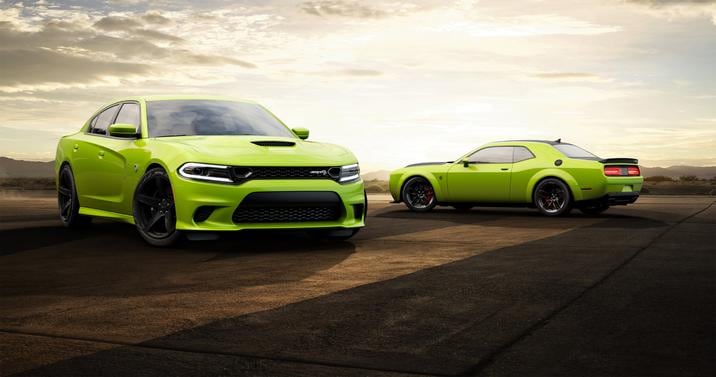 Here at Fields Chrysler Jeep® Dodge RAM, we don't just sell capable trucks or great family vehicles; we also sell some incredible muscle cars that make every drive a thrill. Whether you're behind the wheel of a 2019 Dodge Charger or the 2019 Dodge Challenger, there's nothing quite like the experience behind the wheel once you put the pedal to the metal. These new Dodge cars already offer plenty of options to drivers, but now they're getting one more paint choice that'll make them stand out even more.
Both Dodge vehicles are getting the "Sublime" treatment. The Dodge SRT performance division is bringing back this classic green shade and making it available on all Dodge Challenger and Dodge Charger models for the first time ever. It debuted all the way back in the 1970s, and we're excited to see it make a comeback decades later.
Let's be honest. When you drive a car like this, you want people to notice it. That's why the Dodge Challenger and Dodge Charger are already available in distinctive shades like "Go Mango" Orange or "Plum Crazy" Purple. This green hue fits right in with the already available color palette.
The Sublime green shade will be available for the first time on the 2019 Dodge Charger Scat Pack, 2019 Dodge Charger SRT Hellcat, the 707-horsepower beast, and the 2019 Dodge Challenger T/A will also get the option. Models that show off the new paint job will be on display at this month's Chicago Auto Show as well. We look forward to seeing these stylish muscle cars for ourselves!
If you're looking for a new \muscle car that makes a statement, visit our Dodge dealership serving Chicago. We look forward to helping you find the speedy and stylish vehicle of your dreams!