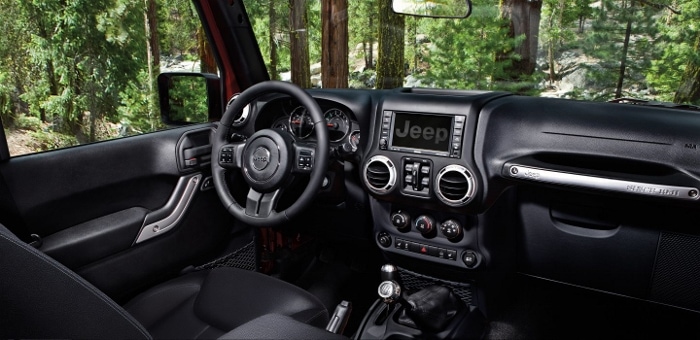 With four of America's top automobile brands under one roof, you'd be correct in assuming that the inventory at Fields Chrysler Jeep® Dodge RAM Glenview features virtually every transmission you can imagine. Let's cover how these transmissions operate so that you'll be ahead of the curve when you visit our Jeep dealers serving Glenview, IL for a test drive.
Manual Transmission
A favorite of automobile purists, the manual transmission is regarded as the trans that provides the most authentic driving experience. The reason why is in the name itself: a "manual" transmission means that the driver is responsible for evaluating vehicle speed and engine rpms, and shifting gears appropriately. Coupes and sedans feature five-speed, six-speed, or seven-speed manual transmissions, as do SUVs like the Jeep Wrangler. You'll also find manual transmissions in top-rated trucks like the RAM 1500, since these gearboxes are durable, rugged, and easy to repair – the perfect match for a hard-working pickup.
Automatic Transmission
Here we have a transmission that's the opposite of a manual. With an automatic transmission, the driver has virtually no input in gear shifting. It's all handled by the vehicle's on-board computer, which evaluates all parameters before shifting. Drivers who desire a hands-off experience choose automatic transmissions, which come in a variety of gears: five, six, eight, and even ten on certain highly-versatile trucks. Many of the vehicles at our RAM dealership feature automatic transmissions, whether you're seeking a Chrysler 300 or a Dodge Challenger near Northbrook, IL.
Continuously variable transmission (CVT)
This particular transmission is the new kid on the block, but its popularity has soared over the last decade. A CVT doesn't use gears – instead, it consists of a novel belt-and-pulley system that generates an endless amount of gear ratios. This ensures consistent acceleration, zero "shift shock", and excellent fuel economy.

Whatever your preference, we have it at our Dodge dealership! Stop by and take a few of our vehicles for a test drive today!